Carmine Homes & Ranches for Sale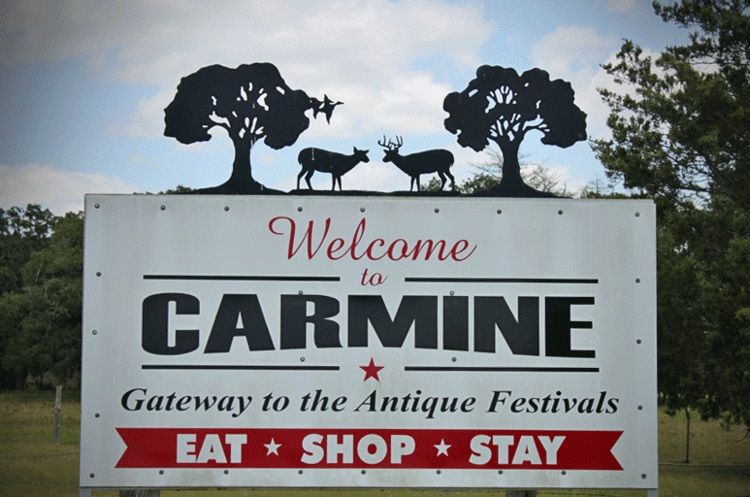 This little city has so much to offer for day -trippers or overnighters looking to experience authentic small town hospitality.  Located just off of Hwy 290 halfway between Houston and Austin. If you're up for a good steak, antique shopping, or basketball history, Carmine is a great place to explore. Nestled in the rolling hills of Fayette county is a little piece of paradise called Carmine, Texas.
Carmine was founded on December 24,1883, by Benjamin J. Thigpen, a highly regarded physician.  He purchased 46 acres of land for $230 and plotted the town site as "Sylvan", but subsequently changed the name to Carmean, after one of the original highly-respected settlers of the area, Newton Carmean.  The spelling of the town was changed to Carmine on June 15, 1892, to eliminate confusion for the postal service with the town of Cameron. The railroad opened a small station in the new city of Carmine where farmers could ship their products to market.
?VIEW HOMES FOR SALE IN CARMINE BELOW?
By 1900 Carmine had four general stores, four saloons, two blacksmith shops, a new paper named the New Century, several churches, and ten other businesses.
The Carmine State Bank opened in 1907 and the town received an economic boost that has helped the City throughout the years.  With the bank opening, other industry followed, boosting Carmine's population growth to approximately 500 in the early 1900's.
The main economics of yesteryear were cotton, potatoes, chickens, eggs and cattle. Today, the chief source of Carmine's economy is antique stores, tourism, ranching and the beautiful and historical countryside surrounding the city.
COST OF LIVING
Compared to the rest of the country, Carmine's cost of living is 10.00% Lower than the U.S. average.
REAL ESTATE
The median home cost in Carmine is $109,300. Home appreciation the last 10 years has been 34.81%.  
We have lots of listings in Carmine on our website. If you are looking for 100+ acres for sale in Carmine with a pond that is heavily wooded or 48+ acres with a large home for sale in Carmine, we can help you find the perfect place.
Which property type are you looking for? Select below…

Ranches And Farms

Sorry we are experiencing system issues. Please try again.

Lots and Land

Sorry we are experiencing system issues. Please try again.

Residential Homes for Sale

Sorry we are experiencing system issues. Please try again.