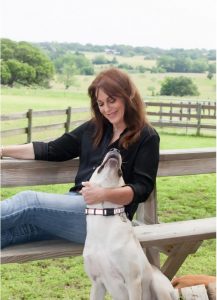 This won't take long:
I love being outdoors, I laugh every day. I'm a mom, an artist, technology enthusiast, pet lover, spreadsheet addict, lover of family, food, friends, and kindness.  
BIO :
This will take a little longer:
I moved to Fayette County in 2013 and knew that this was where I belonged,  walking through densely wooded land and jumping over creeks, discovering that perfect place for a pond or a dream house.  It's just like being a kid all over again and I get to do this every day.
 My family has owned a ranch near La Grange in Fayette County for the past 30 years; a place to which I returned for frequent visits. I would enter their property, look for the blue heron taking off from the pond and feel a sense of tranquility that was just overwhelming. I knew I would live here someday.
MY WORK HISTORY
I have been selling real estate for seven + years now. I actually wore two hats and used my Internet marketing skills and business background as the company Marketing Strategist until August 2018. I now devote all of my time to real estate and marketing our clients properties online.  Prior to real estate, my background was as a Natural Science Illustrator (this made me crazy detailed) and owner of a Luxury Leather Goods manufacturing company with 100+ employees. We worked with major luxury brands from LVMH Louis Vuitton and Hartmann Luggage to Rawlings Sporting Goods. I was in charge of Website design and print marketing, advertising, product development and licensing as well as sales.
HOW THIS WILL HELP YOU
There are so many parallels between my past business experiences that have helped me build a successful real estate career.
Tenacity

Detailed research before you make a move

Discipline

Organization

Creativity  

Negotiating those licensing agreements gave me the skills that benefit my real estate clients financially, and that's where I excel.
If I am listing your property, 90% of all potential buyers start searching online and I have many years of online marketing and website design. I built my first website in 1999.
I will hold your hand through the entire process. This is a huge decision whether you are selling your property or buying a farm or ranch. The paperwork and forms can be daunting, and understanding how the process works can be overwhelming.  First time living in the country? Mineral rights? Surface rights? Who do you call to build water wells or a septic system? Relax, I've got your back and a great list of wonderful responsible people that I can suggest.
If you are looking to sell your property, I'll help you find the perfect owner for your family property. If you are ready to move to the country then I will help you find your own piece of paradise just like we did. I live on a Seven Acre Ranch in Fayette County with my first kiss and two dogs.
Most who know me professionally, define me as a hard worker. I try to exceed expectations and your comfort and well-being is my number one concern.